Well hello again, everyone! I'm so happy to be finally sharing some of the beautiful weddings from last wedding season with you all. First up is Ryan and Emma's gorgeous Port Elliot Wedding. I photographed Ryan & Emma's wedding back in January at Horseshoe Bay and Waverley Estate. Their wedding day was just beautiful. Ryan and Emma wanted to keep it casual and relaxed, which they did in such a perfect way.
Ryan and Emma grew up in the same country town so have known each other all their lives. They started dating when they moved to Adelaide after high school and haven't looked back! I love hearing proposal stories and this one is just so sweet...
"How did Ryan pop the question?""It was two years since our first date. Ryan took me to dinner at the same place we went to on our first date, and then we walked down to the garden of unearthly delights again just like we had done our first date 2 years earlier. We went for another ride on the ferris wheel, we were stopped at the top of the ferris wheel and Ryan got down on one knee in the rattly old cage and held out a ring and asked me to marry him. He was the cuuutest! Somehow amongst all my nervous and excited giggling, I eventually said yes! To top that off he then drove me to a beautiful hotel room overlooking the ocean, he had decorated the room with flowers and candles and photos of us. And also had organized for me to have the next day off work so that we could drive home to Whyalla for the weekend and tell our family and friends in person."
Thank you so so much Ryan and Emma for letting me be part of you truly beautiful day. I wish you both many more years of love and happiness!! xx
Emma designed her wedding dress and had it made by Caleche Bridal House. Her lovely bridesmaids dresses were from Forever New.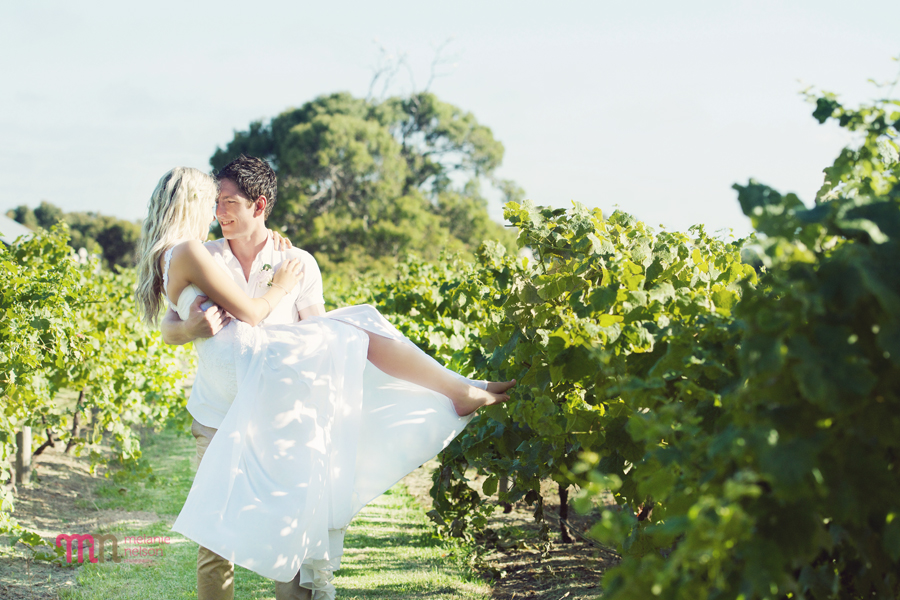 Emma's advice to other couples getting married? "Remember that your marriage is more important than your wedding day. Don't stress over things that don't matter and have fun with it all. You have each other and that's what its all about!"